I have been waiting for December, not only because it's an awesome month and I knew I would be getting my cast off, but mostly so that I could finally start using my adorable Tiny Tags dies and Tiny Tags Sayings stamps. Because let's just say it together: oh, for cute!

These stamps and dies are two things: 1) tiny, and 2) FREAKING ADORABLE! I realize I am being an enabler here but they really are cute. That stitched mitten tho…

I knew I would want to use them with my new reusable gift bags that I purchased recently from Etsy. I figure that wrapping gifts might be a little challenging this year as I rehab my left hand, and as soon as the bags arrived I knew they would look darling with some gray cardstock, white embossed stamping, and a little bit of twine.
Seeing how cute these fabric bags are, I have decided to learn how to sew in 2018. Nothing crazy, mind you, but I would love to find fabrics that I love and create my own reusable gift bags.
NOTE TO NEWBIE EMBOSSERS: Have you ever tried stamping and embossing and the powder seems to stick to the cardstock in places other than where you stamped and it turns into a big old mess? That was always the case with me because I didn't know that you're supposed to remove the static from your cardstock before you stamp your ink down. In that way, the powder will only stick to where the sticky ink is. You can either use a magic embossing bag or a powder tool to remove the static from your cardstock. I have both antistatic tools and use them interchangeably. See supplies below!
It's not too late to order your own set of Tiny Tags to festoon your holiday packages!
SUPPLIES: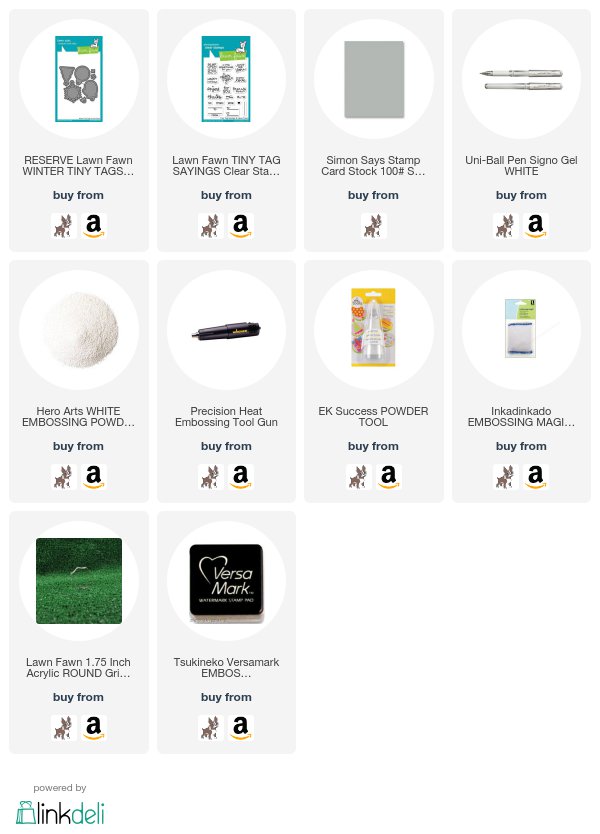 SaveSave
SaveSave
SaveSave
SaveSave
SaveSave
SaveSave
SaveSave
SaveSave