2017 was a monumental year in crafting for me as it will go down in the annals of CZ Craft History as: The Year I Discovered Card Making. [ cue choir of angels here ]
And as a new card maker, I get asked all the time what got me hooked and what I needed to really get started.
Anyone who's into crafty hobbies knows how easy it is to amass all the things and spend all the money. I am no different except that occasionally I still get things sent to me free of cost. That said, I am so excited that I have a major tax deduction coming in the craft department for 2017! I have spent more money this year on craft supplies then in all the years I have been scrapbooking. Crazy, but true.
I have decided to compile my top 10 tools/products for card making from the perspective of a new card maker for the year of 2017. They ARE in order of importance to me and this crafty little journey thus far. See the supply list at the bottom of this post, and know that they are all affiliate links (provided at no cost to you). 
Big Shot Manual Die Cutting Machine. I cannot lie to you: the only reason I started card making was because I started using a Big Shot. Specifically, I received a Big Shot designed by Sizzix for Stampin' Up. I had an assignment to use some products for an article I was working on and I die cut my first shapes and it literally set in motion the chain of events that has turned me into a card carrying card maker, no pun intended. I had NO idea how much fun manual die cutting would be. I had NO idea that you could buy MATCHING stamps and dies and cut out images perfectly every time. This is THE tool of the year for me and it has inspired me to make in ways I haven't in years. This has spilled over into scrapbooking, too, as I'm now creating my own stamps and dies with memory keeping in mind, as well as card making.
Misti Precision Stamping Tool. This incredibly inventive tool has literally made stamp been possible for me. My problem with stamping in the past had always been the imprecise nature of it. That doesn't appeal to an anal retentive, space loving control freak like me. I don't love the messy look. I like the clean and precise look and the Misti makes that possible with stamping. While it is not a cheap tool, I would invest in the original Misti because you will get more use out of it perhaps than the smaller one but I do have both. To see this thing in action, watch the video below.
Neenah Classic Crest Solar White Cardstock. This paper has changed my crafting world permanently. I use both the 80# and the the 110# weights (80# for most stamping and die cutting and the 110# for my card bases). I buy both weights in reams because it is completely worth it. I bought my first ream of the 80# weight back in April and I just bought my second ream this month. I have yet to buy another 110# ream. I use this for scrapbooking and for cardmaking. It is smooth and bright white and it takes and beautifully, whether you are using Copic markers or printing directly from your ink jet. I even use it in my laser printer and the results are spectacular. Best paper ever and I wish I had known about this sooner!
Embossing Magic bag (or other anti-static tool for stamping and embossing). I never liked embossing because it was a freaking hot mess. Everything I stamped was never crisp and clean and the embossing powder stepped in my paper and I thought to myself, "SOOO not worth it."  I never knew that card stock had static and that you could simply dust the paper with a little powder tool and your ink would only stick where you had stamped your image with your sticky ink (Versamark). I have both this little bag and also an EK Success Powder Tool. Again, an anti-static tool will change how you stamp and the results that you get!
Wagner Heat Tool. And speaking of embossing, very early on in my card making adventure, my friends at Hero Arts sent me the Cadillac of heat embossing tools, the Wagner heat tool. This thing is so solid and works so well and I would recommend any new card maker to snag one. Or, any scrapbooker who likes to incorporate heat embossing into their work. Like I said: Cadillac, baby!
Lawn Fawn Stitched Rectangles in two sizes. If you're going to make cards, acquiring a set of stitched rectangles is a must. These two sets has been my most used dies of 2017. The large set has a 4.25 x 5.5 die that works perfectly as a base panel for any standard A2 card and gives you that awesome stitched card base look. I never knew this was how card makers got that stitched look! In fact, almost every time I share a card with someone who is not a card maker they ask me how I stitch the edges! A basic set of a rectangle stitched dies is a great investment.
Lawn Fawn Stamp Shammy. This little gadget is a genius tool. Simply wet it down and clean your stamps with water. It's so easy to use and you just have to keep it damp, and it makes cleaning up stamps a snap. I keep mine in a little glass jar on my work desk and just keep the lid cracked so it doesn't get too smelly. Even if it does get smelly, I just wash it with a little dish soap and rinse it out really well and it's good to go!
Distress Oxide Inks. I had known about Tim Holtz for years. I mean, I've been friends with him since the early days of teaching at CKU, but I have never really used his products before because I just thought they were for shabby chic, distressed looks and I am definitely not that kind of girl. Imagine my surprise once I figured out the many ways you could play with these inks. And you should know I very much still a beginner with them but man, they are just so cool. These new Distress Oxides are very easy to blend and that is one thing I am not great at, but these inks definitely give me a better shot of creating a smooth blend. But speaking of Distress Inks…
Distress Ink Minis + Blending Tools. I have to combine the Mini Blending Tools with the Mini Distress inks because these inks also changed my image of stamp ink and what you could do with it. While I have yet to really delve into a lot of stamping with the traditional stamp inks, I have played with Distress Inks and had so much fun this year! I feel like if you're a new card maker, starting out with a pack of Distress Inks will give you a real taste of creative play with ink. Again, I am still learning and playing and these inks really do inspire me to have fun and create.
Scor-Buddy and Teflon Bone Folder. Last but not least is my Scor-Buddy scoring tool and the Teflon Bone Folder. I had never had any kind of scoring tool before 2017. And this little guy is small, easy to store and does the job right every time. However I prefer the Teflon Bone Folder from Simon Says Stamp rather than the tool that comes with the Scor-Buddy. It is not a cheap bone folder but it will give you great results as it leaves no mark on your paper and works like butter. If you are going to be making cards year and year out, I feel that having the best tools available is a good investment and Teflon Bone Folder is one such tool.
And one more, because I really love this discovery:
Gina K Designs Pure Luxury Cardstock. As a scrapbooker, the only card stock I've ever used is from Bazzill. And while it is a great card stock I had no idea how many great smooth cardstocks were out there and at the top of my list are the cardstocks from Gina K Designs. I got a sample of every color and made this little swatch ring you see and slowly I have been adding packs of colors all year long. And the great thing is that she has matching envelopes for every color.
And that is my list for 2017! There are many other tools that I am using and love that I felt that I had to narrow it down and this is the result! I'm so happy I discovered card making this year. It has reinvigorated my passion for making and that has spilled over into my memory keeping as well. Thanks for following along this year. I know that for some of you it seemed like a weird leap for me to jump into making cards but it really has been fun and it reminds me of all the reasons why I like getting my craft on after all these years.
A deep and loving shout out to Jennifer McGuire, who gave—and continues to give—me so much direction in this crafty world of cards. And also to all the companies who have embraced me and sent me goodies to play with this year! You have no idea how giddy your stuff has made me.
To see all of the cards I made this year, click here.
SUPPLIES: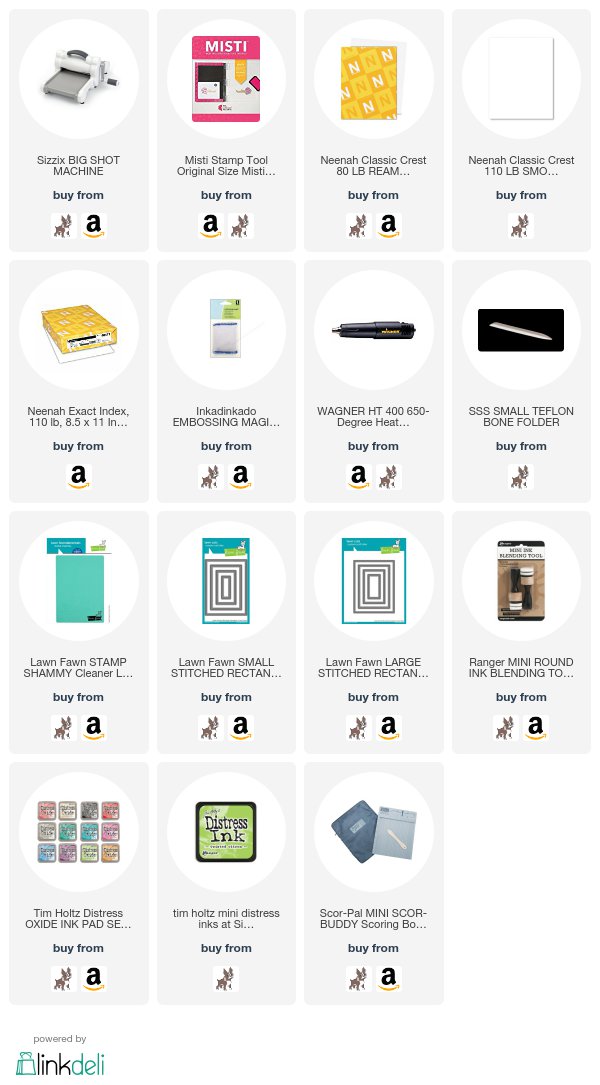 SaveSave