Today I'm so happy to introduce to my featured designer for this new release. Her name is Kirsten and here's a look at some of her wonderful work, as well as a little Q&A to help you get to know her!
FIVE QUESTIONS WITH KIRSTEN
QUESTION 1: How long have you been scrapbooking, give or take?
I think it's been about 20 years. I started out with a group of friends, and we'd meet regularly to make cards. We attended stamp conventions, and later Creating Keepsakes conventions, and that's where the switch to scrapbooking happened for me. I've always had an interest in photography and documenting memories, and I loved all the supplies. I didn't make too many traditional layouts, I liked "dressing up" regular photo albums, making mini books, and then later making digital photo books. Blogs like yours and Ali Edwards' inspired me to focus on telling my story, and Project Life was a game changer with the emphasis on documenting everyday life and using pocket pages. I've always been a hybrid scrapbooker, and about a year ago I decided to go completely digital for my weekly or monthly memory keeping. I still love playing with paper for more self-contained albums and my newest creative habit, daily pages.
QUESTION 2: What is your preferred page size?
That varies with the project, but I would say usually smaller than 8.5 x 11. I currently make all of my digital pages in 8 x 10 to print them together in a photo book.
QUESTION 3: What is your favorite subject to scrapbook?
Everyday life. Hands down. Maybe it won't matter for posterity, but documenting the little bits and pieces of my life – my relationships, what I'm into, what's important to me – brings me a lot of joy.
QUESTION 4: What are your top three ride or die scrapbooking supplies, the things you cannot create without?
I'm going to assume photos are a given? My number one is definitely patterned paper for both physical or digital projects. It is so versatile, beautiful, and can totally change the feel of a page. The second would be my iPad together with the Procreate app for digital scrapbooking. After that, different supplies will enter my top 3 at different times, depending on the project or my mood. Currently I would say stamps and colorful inks are in that spot.
QUESTION 5: What is something people would be surprised to learn about you?
I was born and raised in Germany, and still have lots of family and friends there. Technology has made staying connected so much easier, and we love to video chat together. My first adventure in the US was in Michigan as an exchange student in high school. I then returned as a college exchange student, and have been on the West Coast ever since. All this got set into motion in 10th grade, when a teacher who was filling in veered off the sub plans and told our class about this exchange program to the US. I was very fortunate that my parents agreed to let me apply, and the rest is history. Sometimes I wonder, what if my teacher hadn't been sick that day?
BONUS QUESTION: What advice would you give to someone who wants to get into scrapbooking but has not yet started?
Connect with others who scrapbook. That could be online, following people on social media, checking out YouTube videos, or even better taking an online class. If you're lucky enough to have a local scrapbook store, check out their offerings for classes or connections and visit them to chat, once it's safe again.
Share one recent favorite photo and tell me why/what it means to you: I took this photo during our most recent walk on the beach. We moved from a fairly large city to this small town a few years ago, and even though the two places are only a few hours apart, it is amazing how different life is here. Every time we walk on the beach, I could pinch myself! We adopted Ellie, our dog, shortly after we moved, so she is intricately tied to this change in our life.
Follow Kirsten on Instagram here!
KIRSTEN'S SUPPLIES:
Note: Here are the CZ Design Digital products featured in Kirsten's work. I encourage my guests to use other products as well! If you have questions about the other supplies, or questions for her in general, leave them in the comments on this post!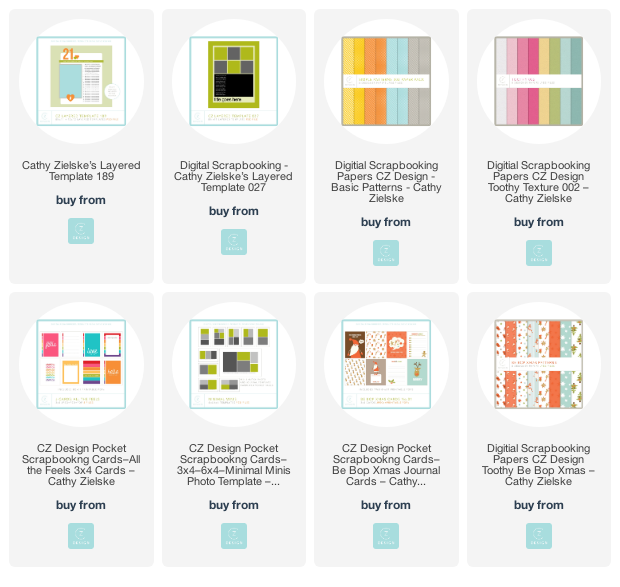 ---
It's new release day in the CZ Digitals Shop! Click here to see what's new and don't forget to check out the Saturday Six, six products that are 50% off through Sunday, August 16 at 11:59 p.m.